Coq au Vin
I really wanted to make something classic this week. The odds on favorite was boeuf bourguignon, but we eat a lot of beef, and I didn't feel like spending a fortune. I still wanted to make something French though. After some internet time I decided on coq au vin. This was a signature dish of Julia's, and was featured in both Mastering the Art of French Cooking, and The French Chef.
I will admit that I made a couple changes to the recipe. I omitted the cognac and the used skinless chicken thighs. Now, I don't think Julia would roll over in her grave because of these changes. You have to suit the dish to the diners after all, and Chrysa doesn't like blubbery chicken skin. I left out the cognac because I didn't feel like spending money on something I will never use again.
In the end the changes I made didn't make any difference. The meal was really delicious! Chrysa and I both loved it, and one of us went up for seconds. I paired the chicken with balsamic glazed broccoli. The acid on the veg really cut through the fattiness of the meal. Overall, another great evening with Julia.
---
French Onion Soup
Chrysa and I are in that weird transition period between assignments. Chrysa settled in very quickly on this one, so I have a little time on my hands before I end up finding a job. Mostly I've been spending my days getting the details squared away and getting everyone in a pattern. I have also been stocking the fridge and pantry, doing laundry, and generally doing the house husband gig. I have already found a great grocery store, which brings me to the topic of food.
When we moved from California we left with a hoard of goodies from my work. Unfortunately the cooler didn't do the best job, and most of our favorite California treats were ruined. To tell the truth, I was pretty bummed, and I've been in kind of a cooking rut ever since. Oh sure, I've put together a couple of good meals since we moved, but nothing consistent, and nothing that has stood out.
Chrysa made a great suggestion while watching Julie & Julia," why don't you do that?" I loved the idea! I get to cook the food of someone I find inspirational, practice my skills, and Chrysa gets a great meal (hopefully).
The goal is to make at least one Julia Child dish per week. We figured one was good to start. Buying specialty ingredients can get costly and I didn't want to bite off more than I could chew. Since the weather is still…unpredictable, I decided meal 1 would be French Onion Soup.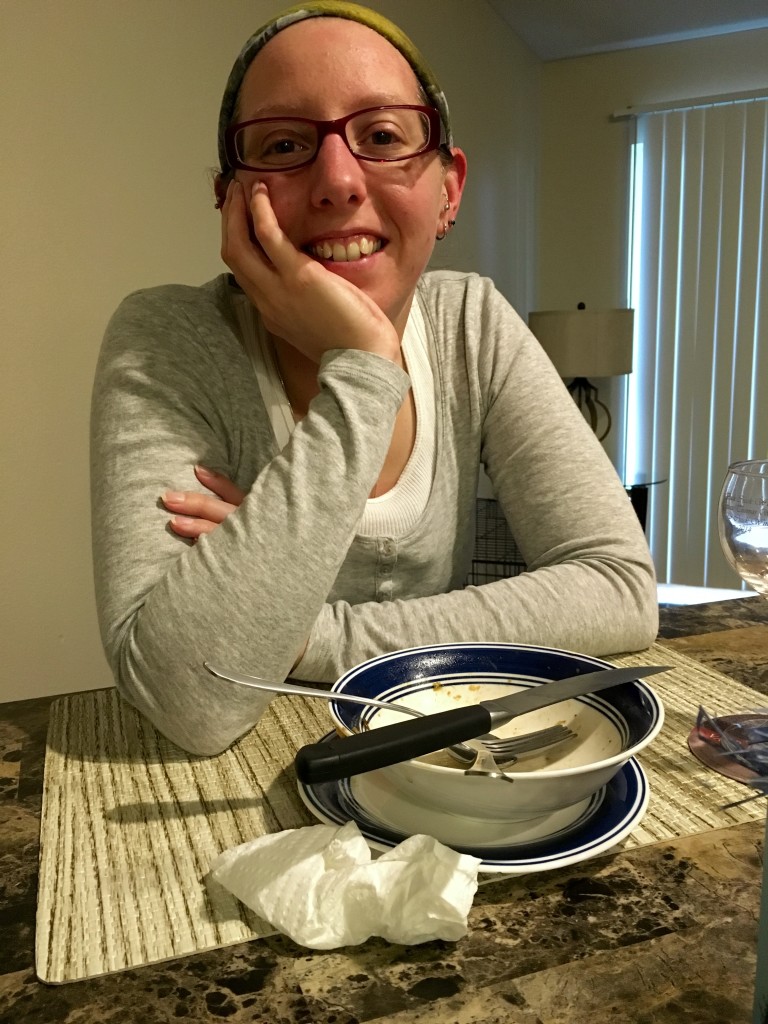 As you can tell by the empty bowl, and the smile on Chrysa's face, the soup turned out great. She even said it was better than restaurant versions she's had. I was thrilled. The cooking rut is over! Now I just have to figure out what to make next week.
(0)