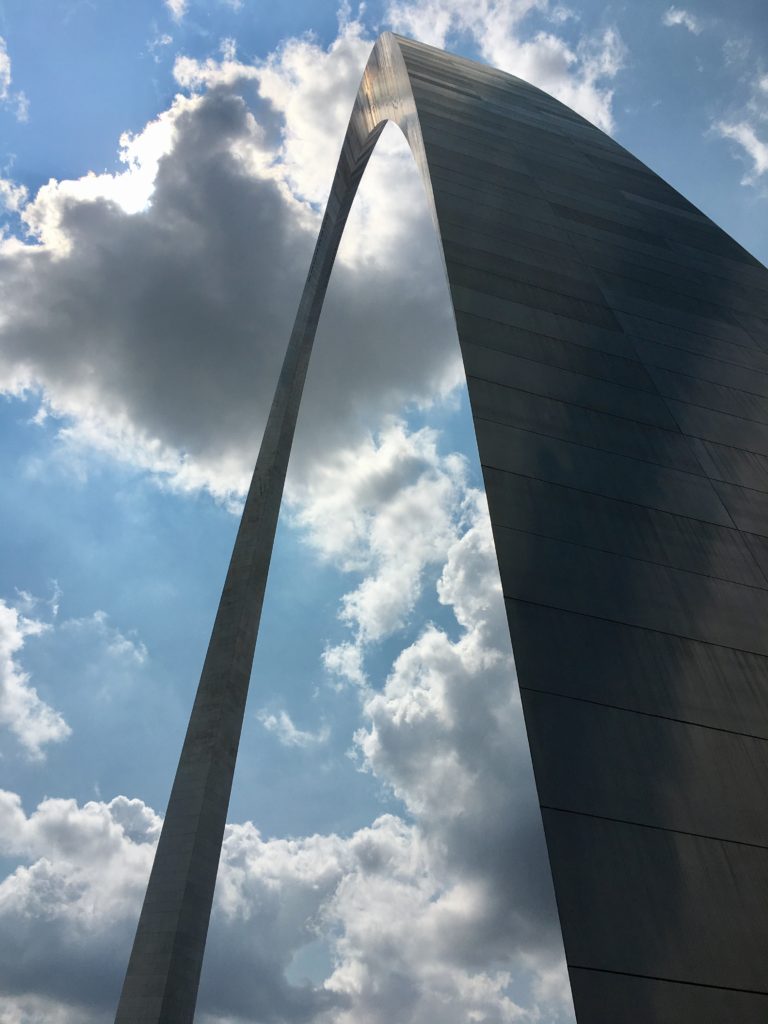 Here in Quincy, IL Jesse and I are only 2 hours away from St. Louis Missouri. On our way to our temporary home in Illinois, we could see the St. Louis Arch from the highway, and we mentioned over the CB radio to each other that we would have to come back and see it up close, well finally that day had arrived.
We hopped into the car after getting up at a semi reasonable time and having some coffee. It is not a long drive but goodness it is also not an exciting one, so much corn and not much else along the highway. This was my day that I had planned, and I found a parking garage not too far from the Arch. We made our way there without getting lost, found a spot and made our way down to the street. Conveniently, this garage was also near the visitor center (I had not planned that but got lucky) so we went in and the lovely lady helped us find maps and gave us some other ideas for things to do in St. Louis. The city has very helpfully painted "This way to the Arch" onto the sidewalk and used the arch as the arrow; we happily obliged and followed the marked path. It took us past a very fun city park with outdoor art that children could climb on as well as fountains and wading pools for kids to splash around. There were food trucks lined up along the street and we made a mental note to come back that way to grab some lunch.
It is kinda hard to miss the Arch since it is 630 feet tall. When you get up close it looks almost fake in the way it reaches up into the clouds. They are doing construction and building a new park right in front since you used to have to cross six lanes of traffic to get up close. We continued to follow the path and walked right up to it. We decided against going inside since I am afraid of heights and not a big fan of closed spaces. The park surrounding the Arch is pretty big and right along the Mississippi River so the views are great. There are helicopter tours that take off from there, and riverboats that you can cruise on, so there was a lot to see. I had some work to do since I had a second phone interview scheduled for that day. I sat under the Arch and did my interview, it must have been a good omen since I was offered the position!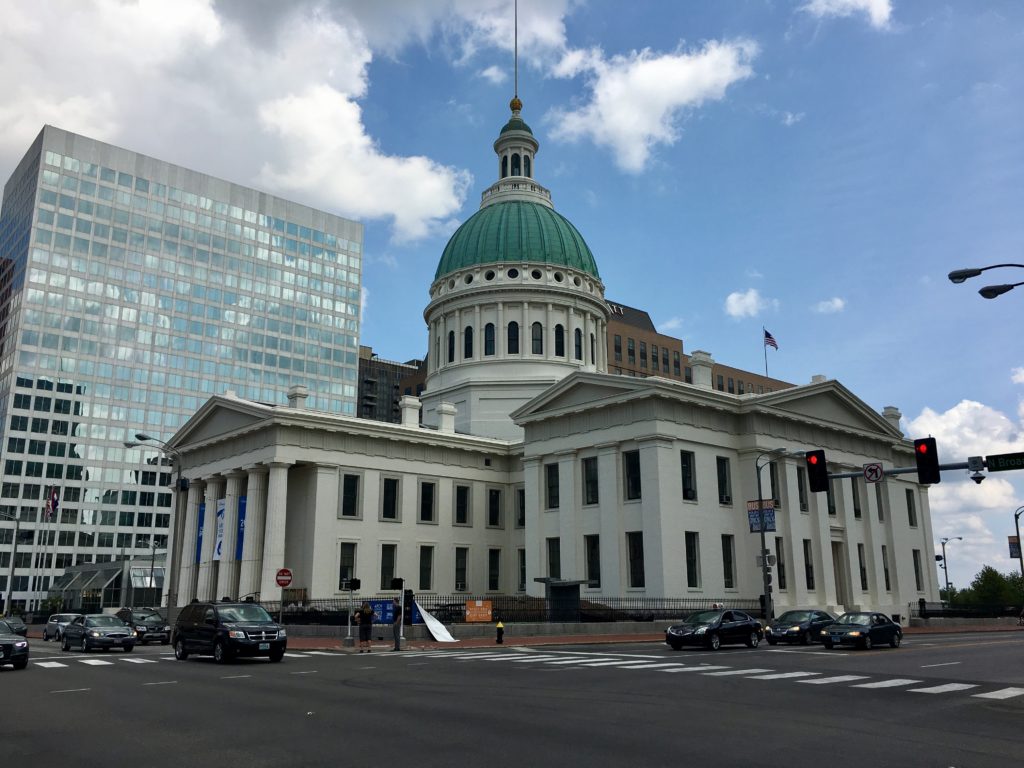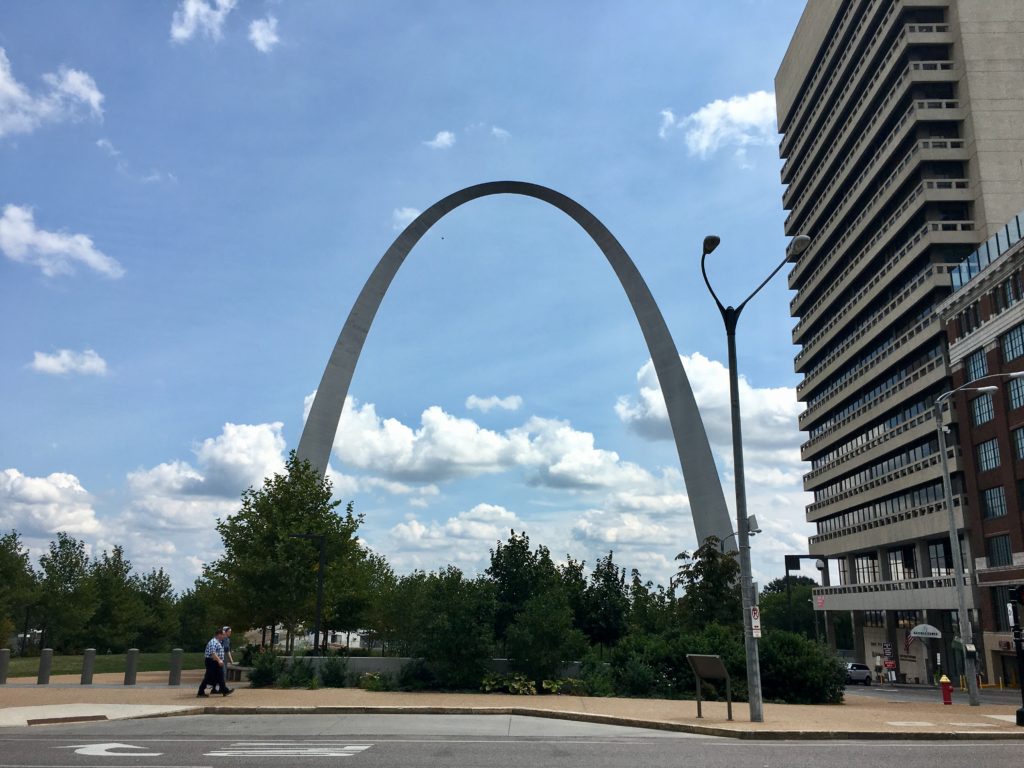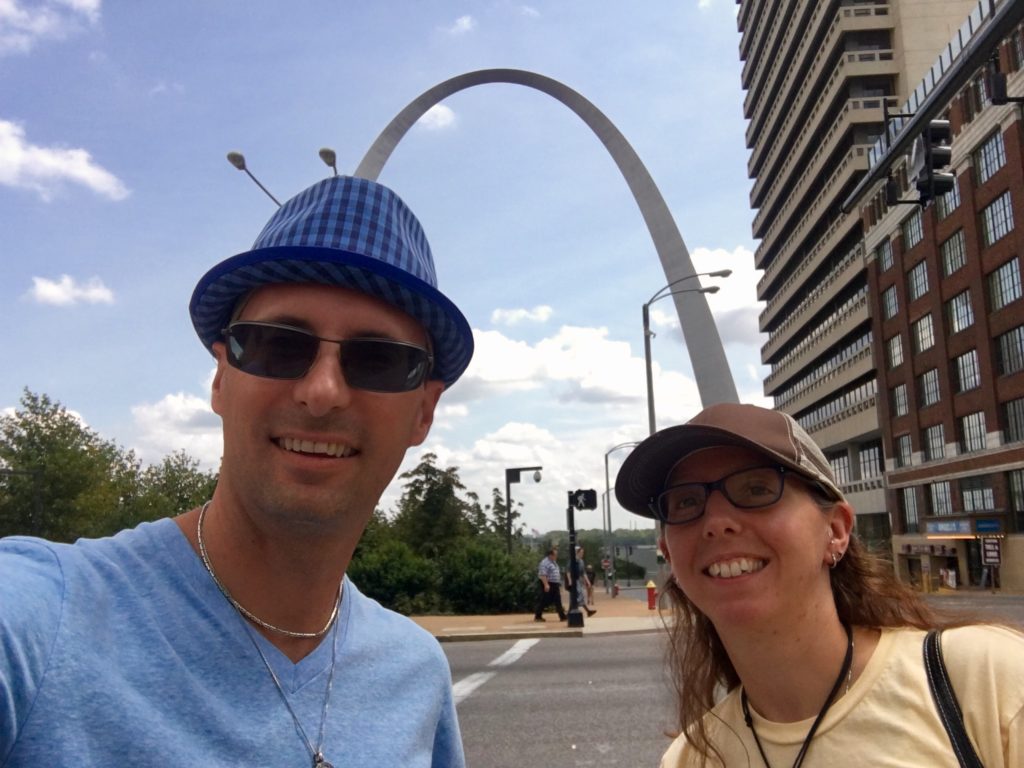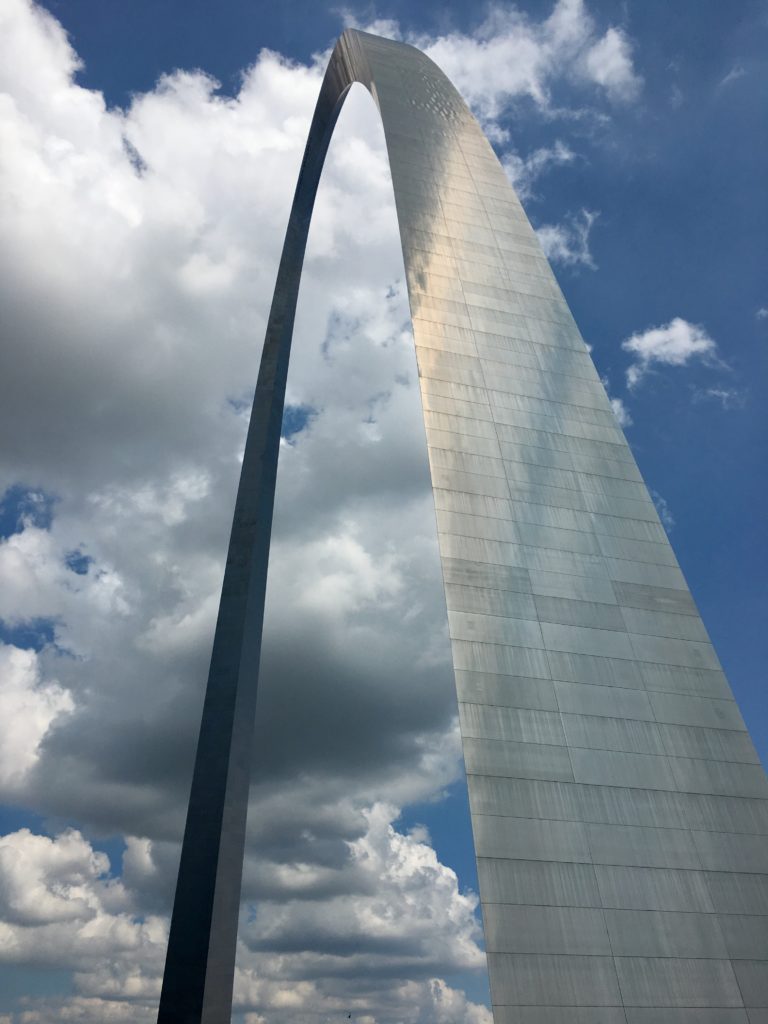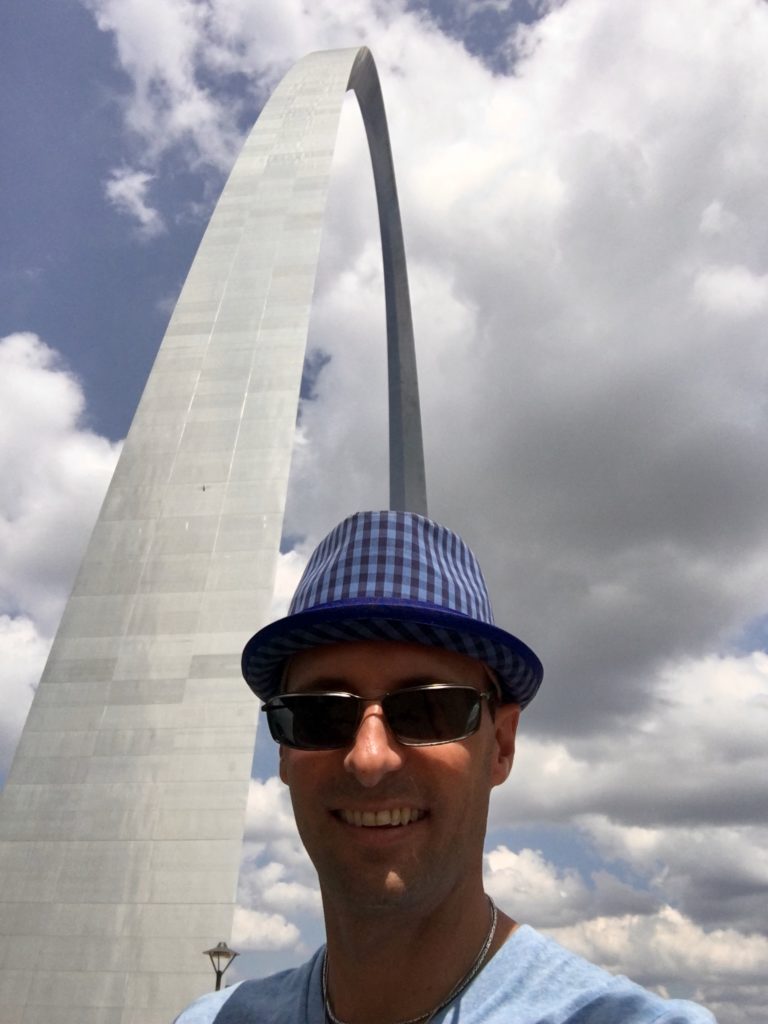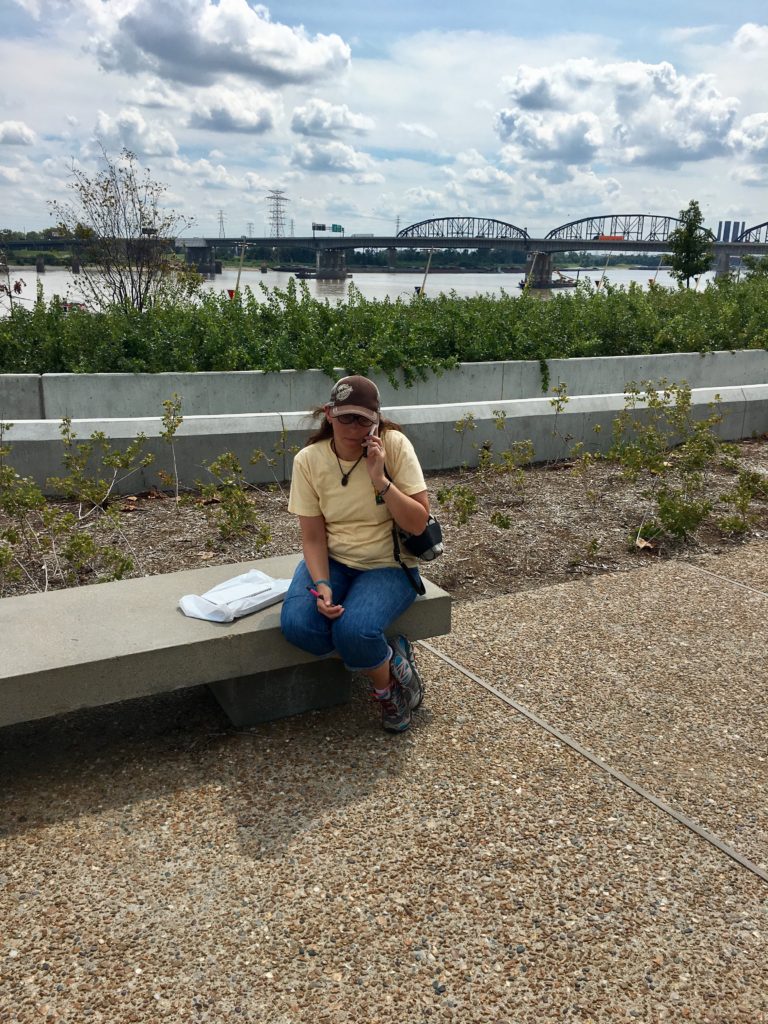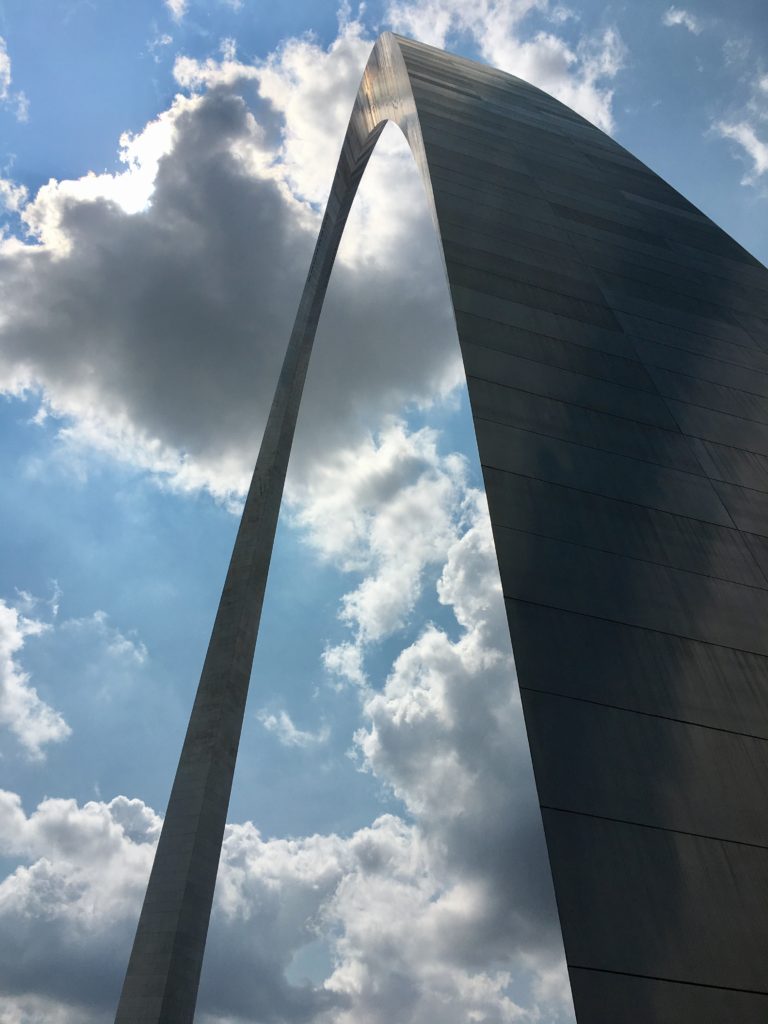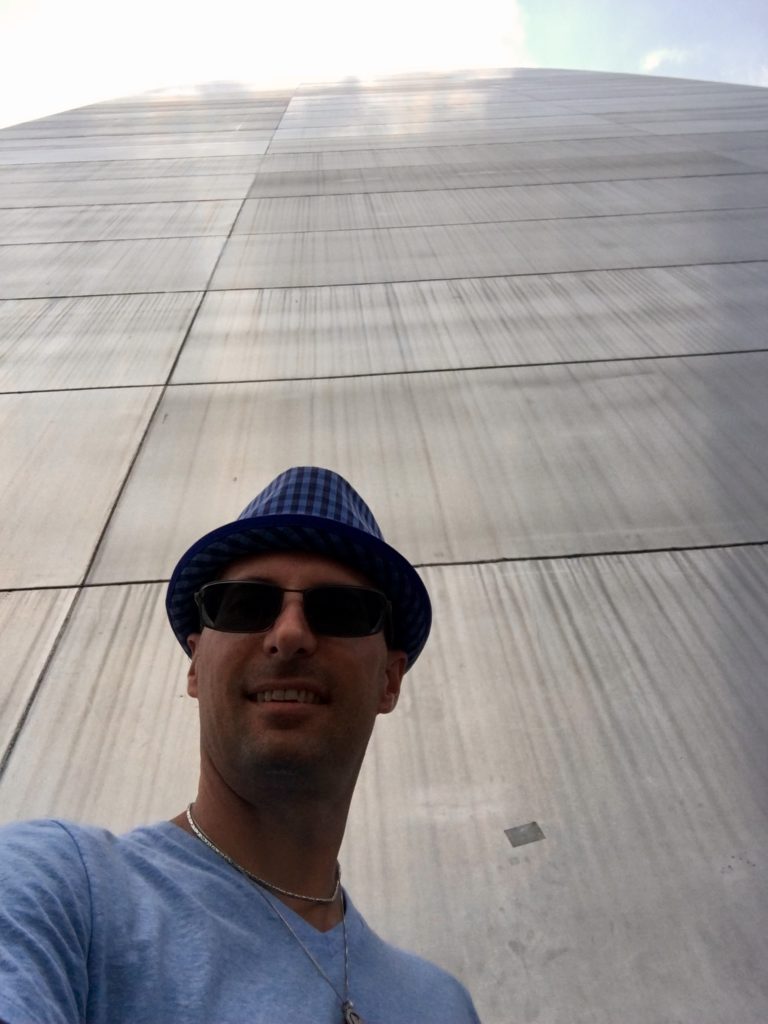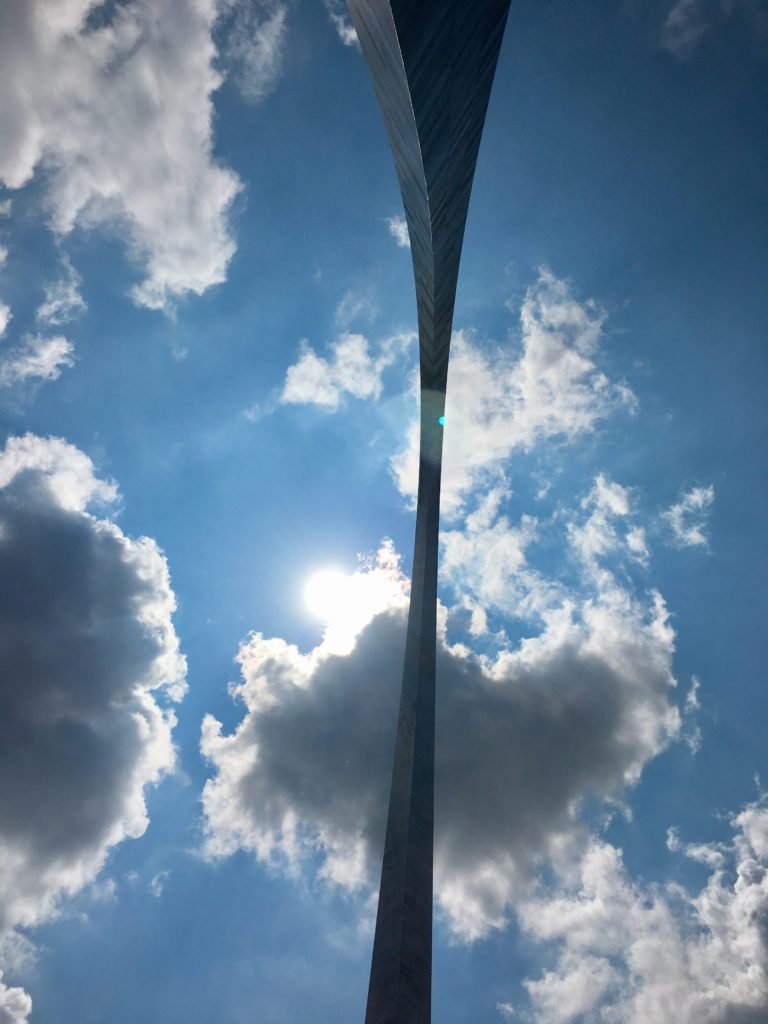 Time was running out, and we had a 2:10pm tour booked, so we headed back toward the park and food trucks. Since it was after lunch they were closing up and we ended up getting gyros at this other place. They were very good and we made it back to the car in enough time to head to our next destination, the Anheuser Busch Brewery.  (Jesse here – my aggressive yet efficient driving shaved a full 5 mins off the journey – humble brag)
I am not a huge fan of Budweiser, but the brewery and their story really is a piece of American history, and I felt that we lived so close we should really see the place. It is not just one building but a whole complex of brick buildings of various ages, some as old as the late 1800's. Our tour took us to the paddocks for the famous Bud Clydesdales. Those horses are so big and beautiful. They were first given to the elder Busch by the younger as a gift to celebrate the repeal of prohibition. They even delivered beer to President FDR. The history there is very cool and the tour was wonderful. We also got to see the production line for all the beer in glass bottles. The building is giant and we were on the 7th floor. You could see the other floors canning beer as we moved up the escalator. What I also found interesting is that they have a pretty big workout room for the people that work there; that is a hell of a perk!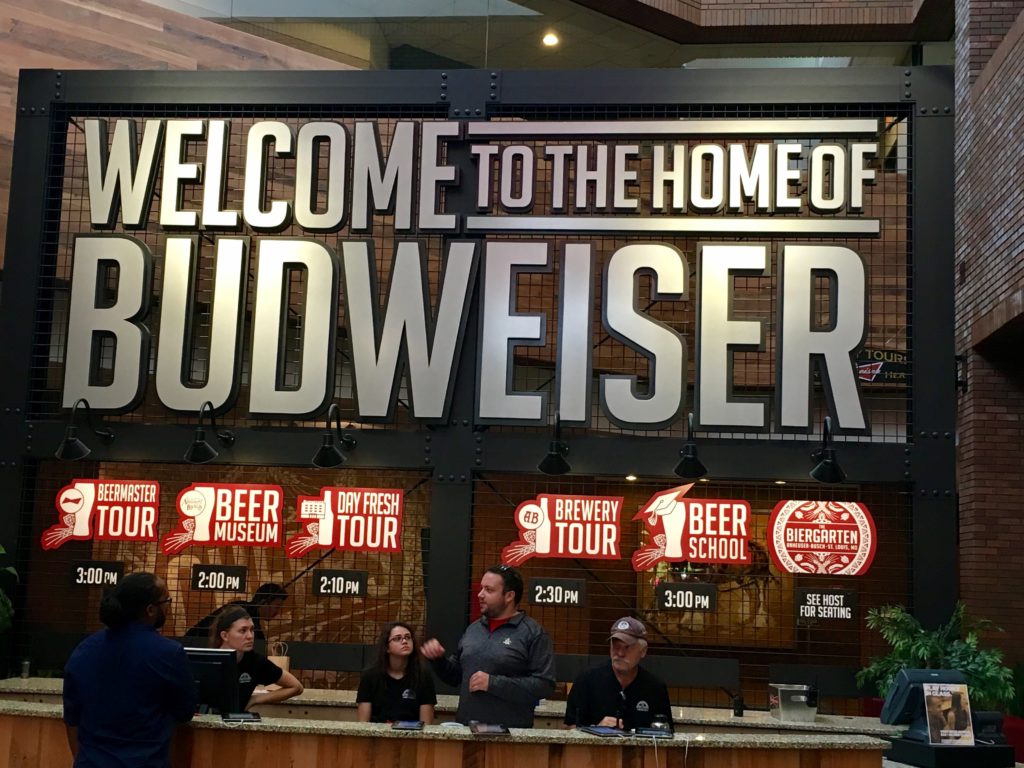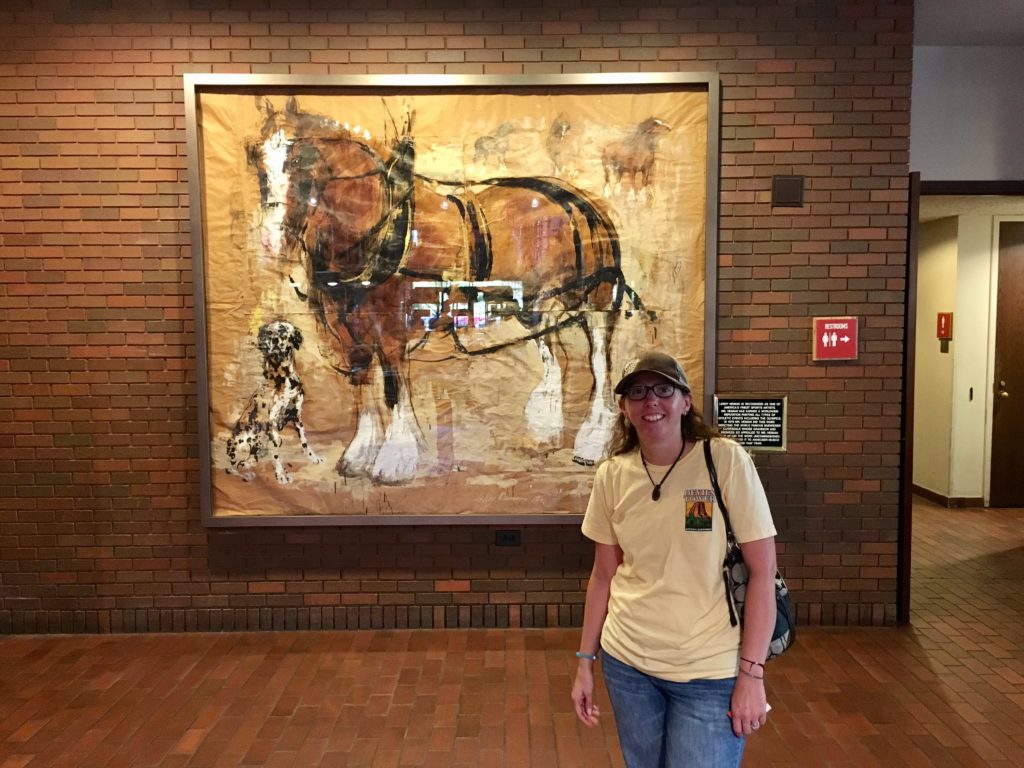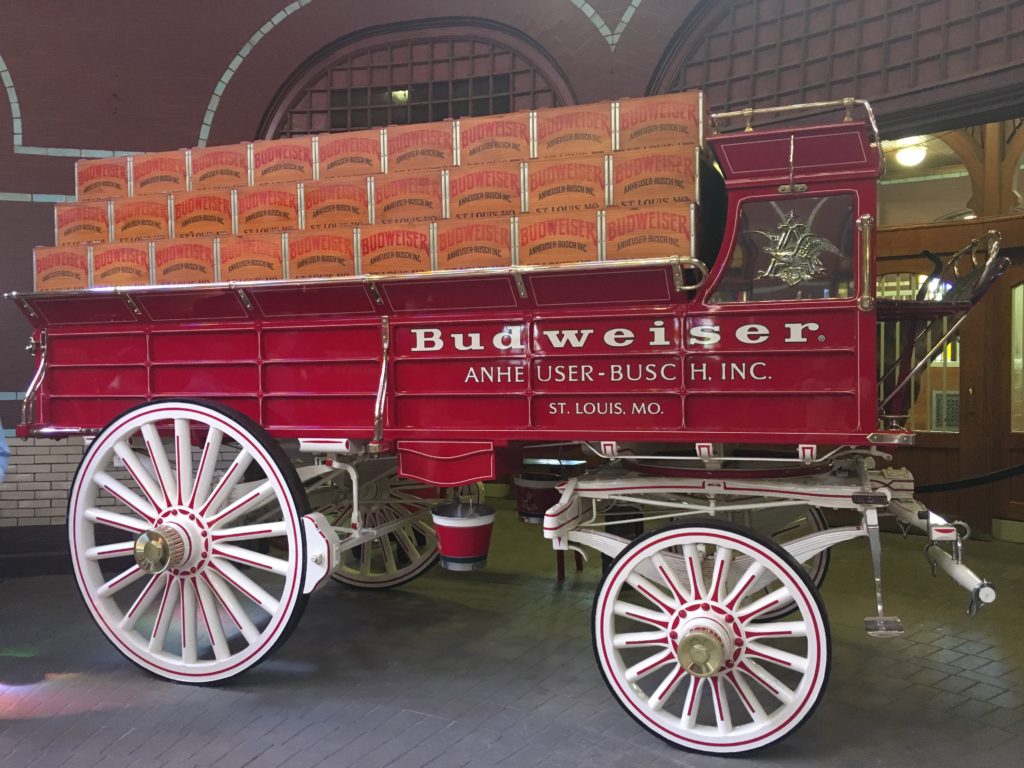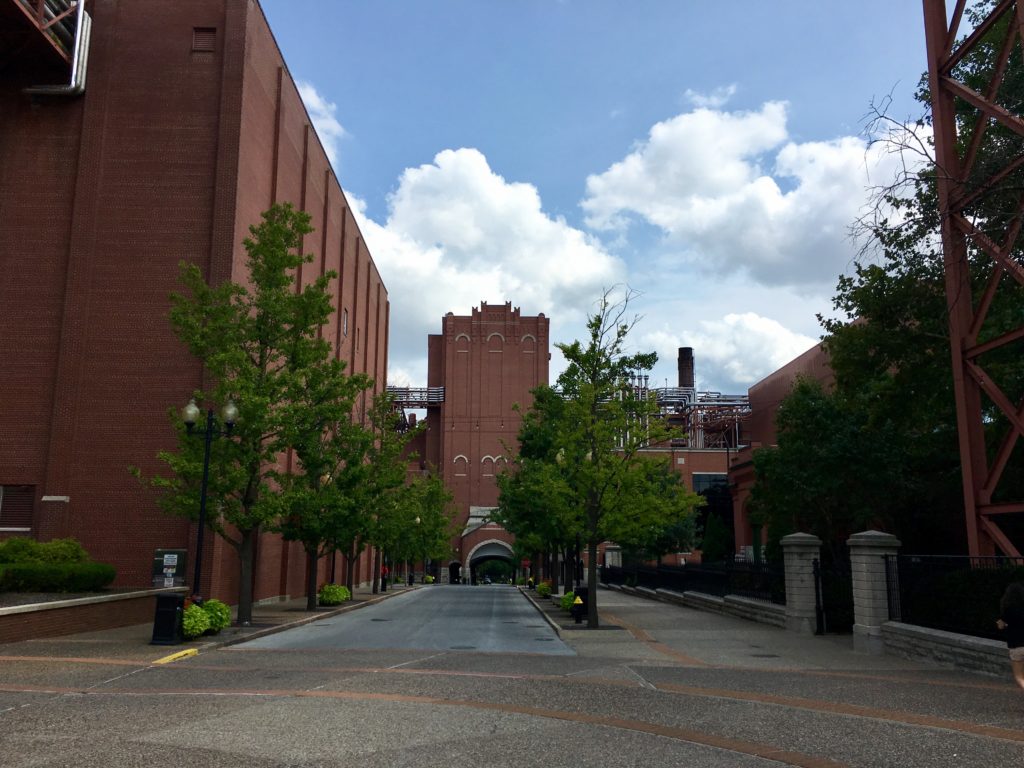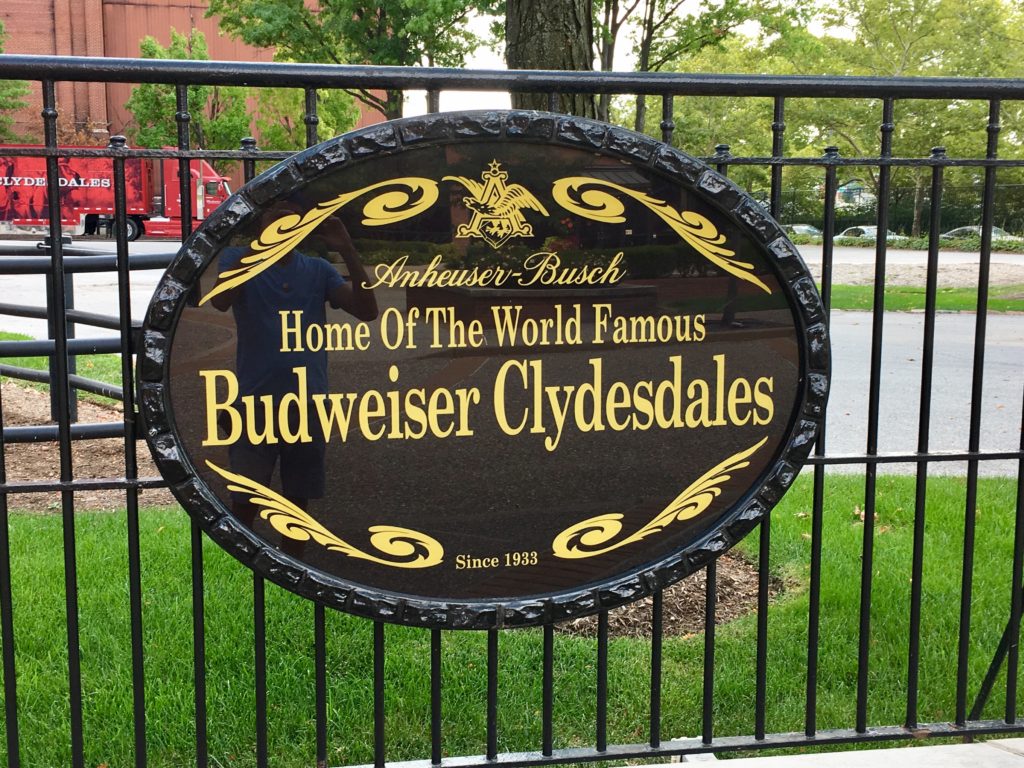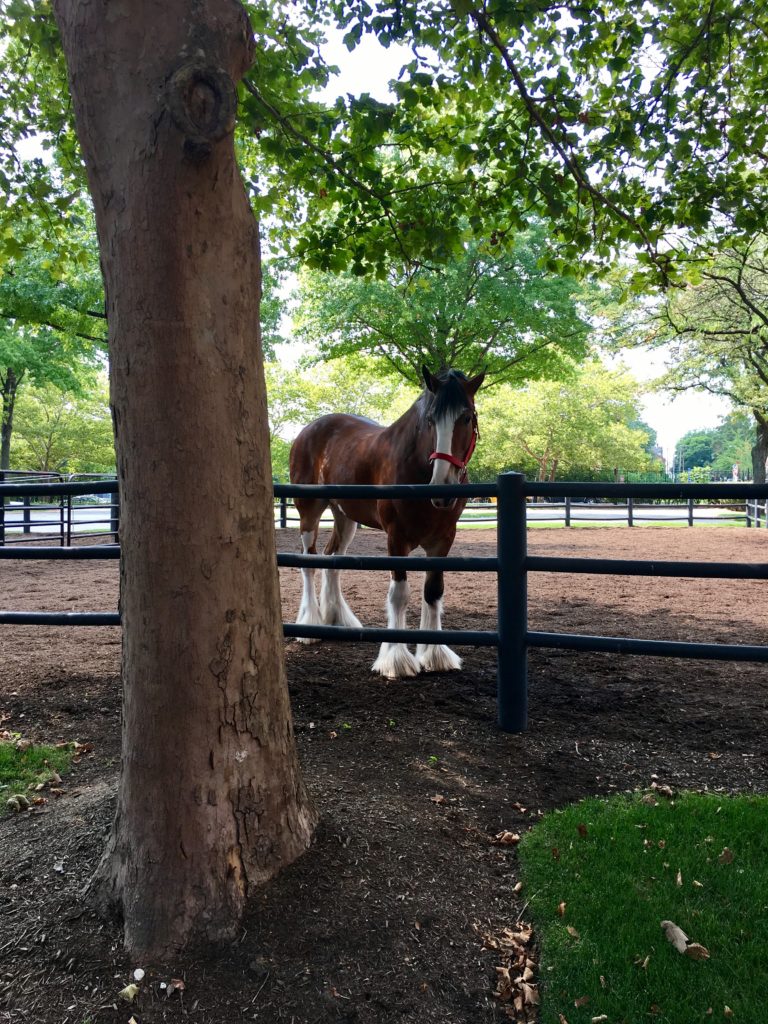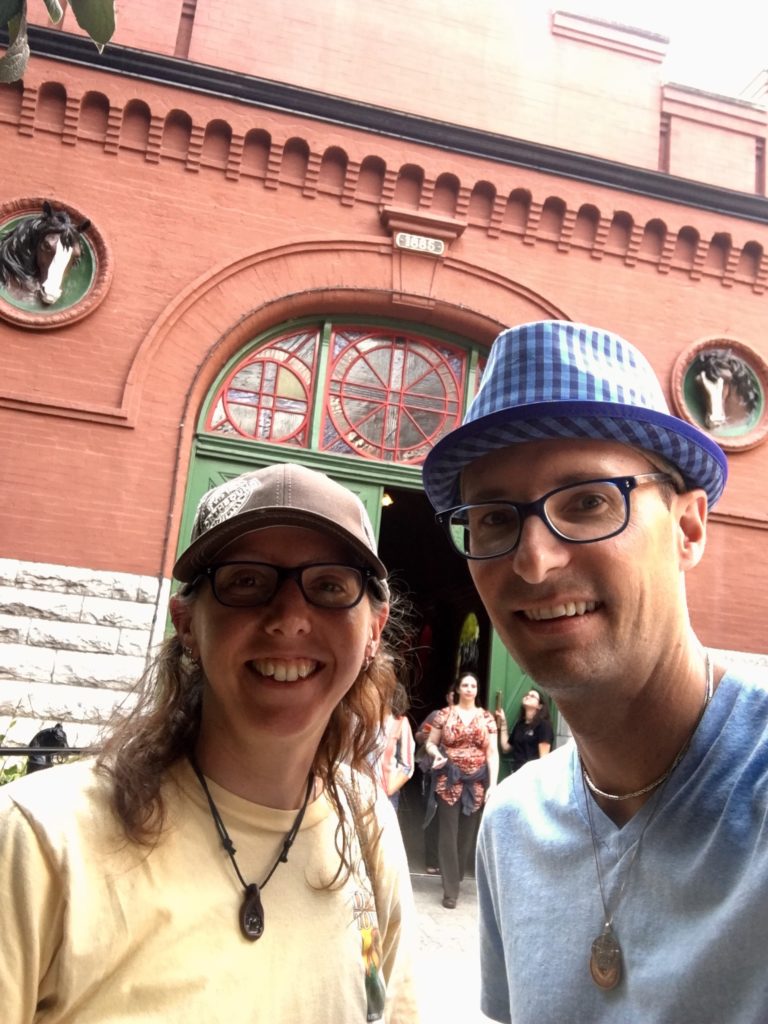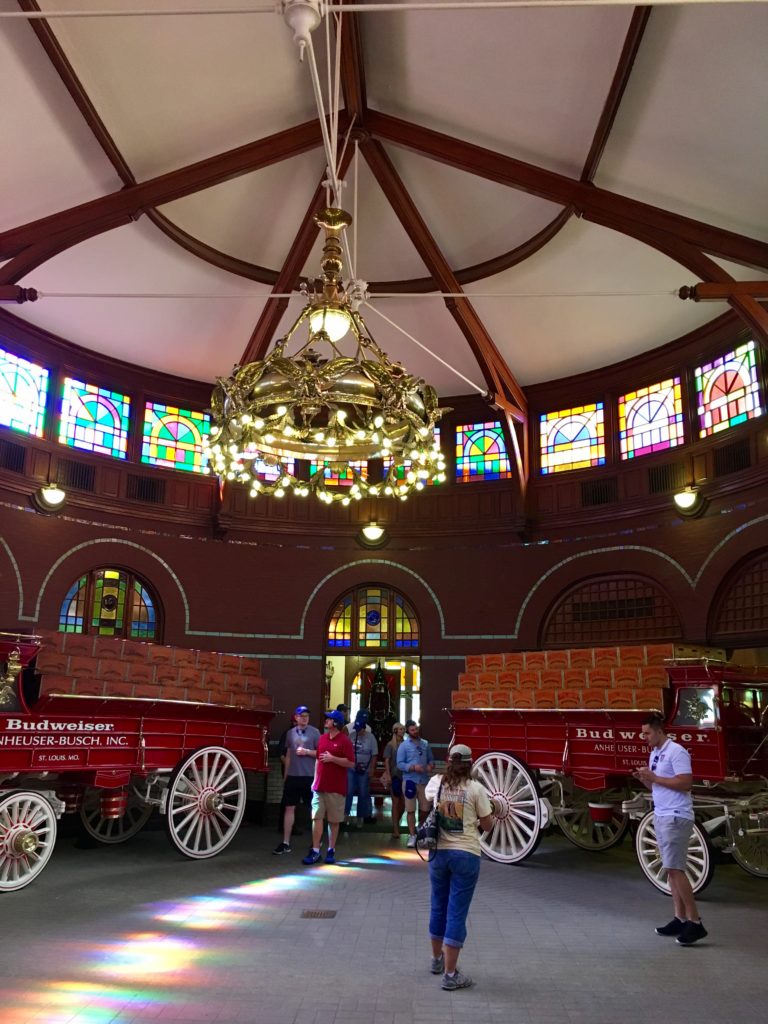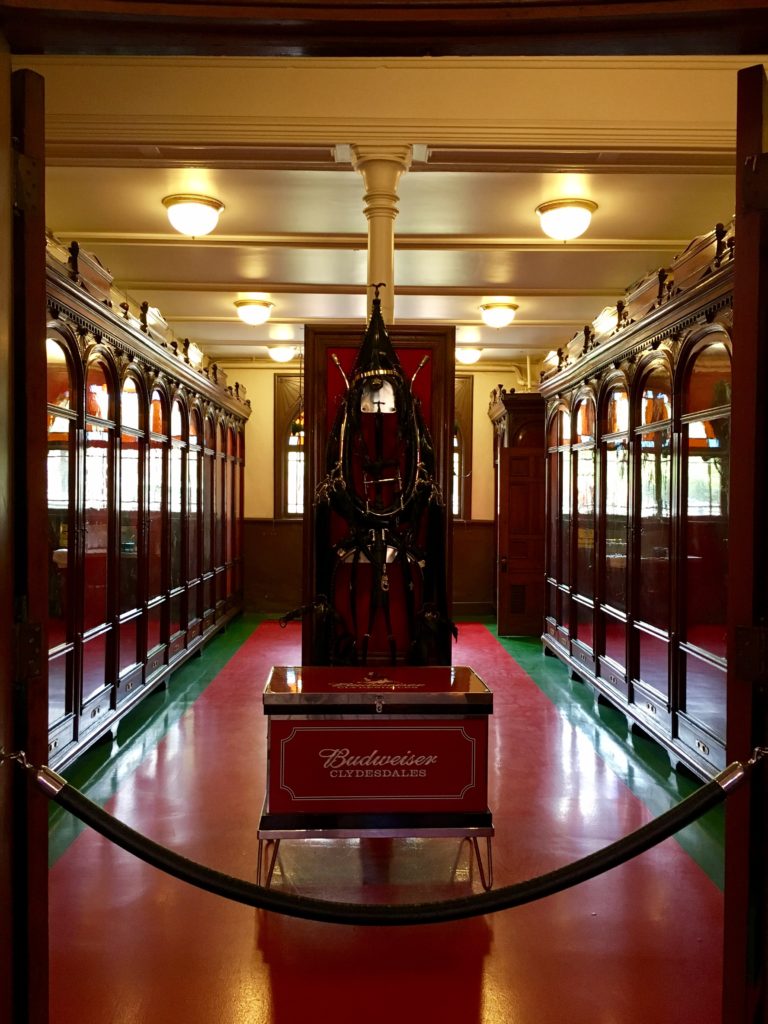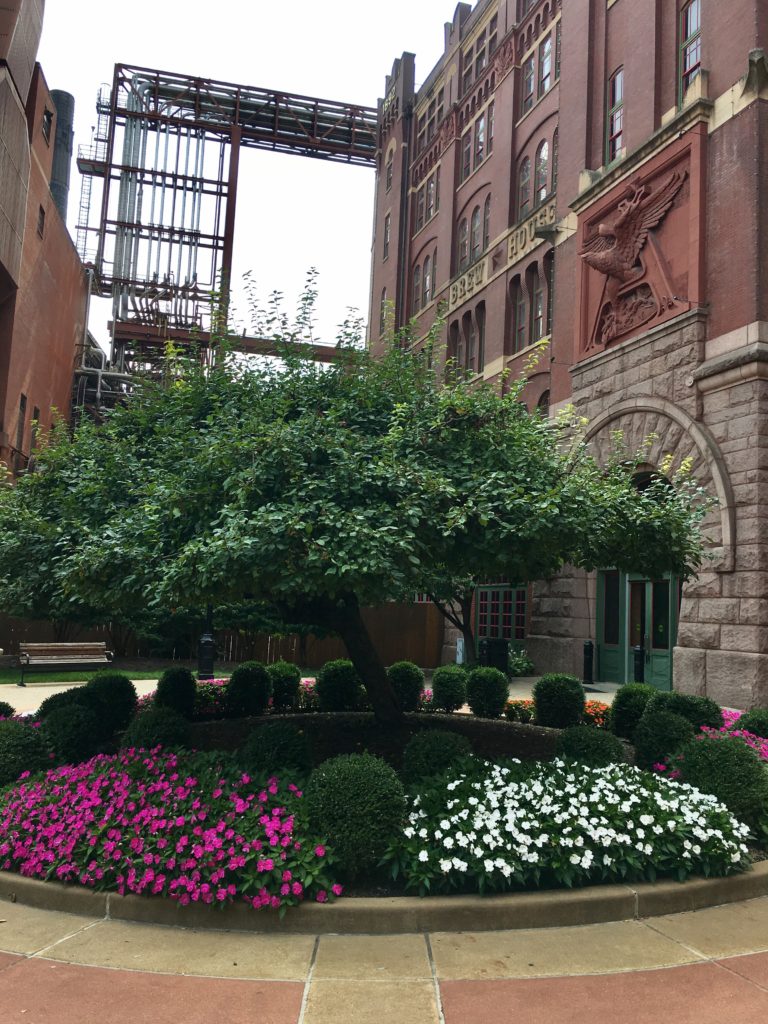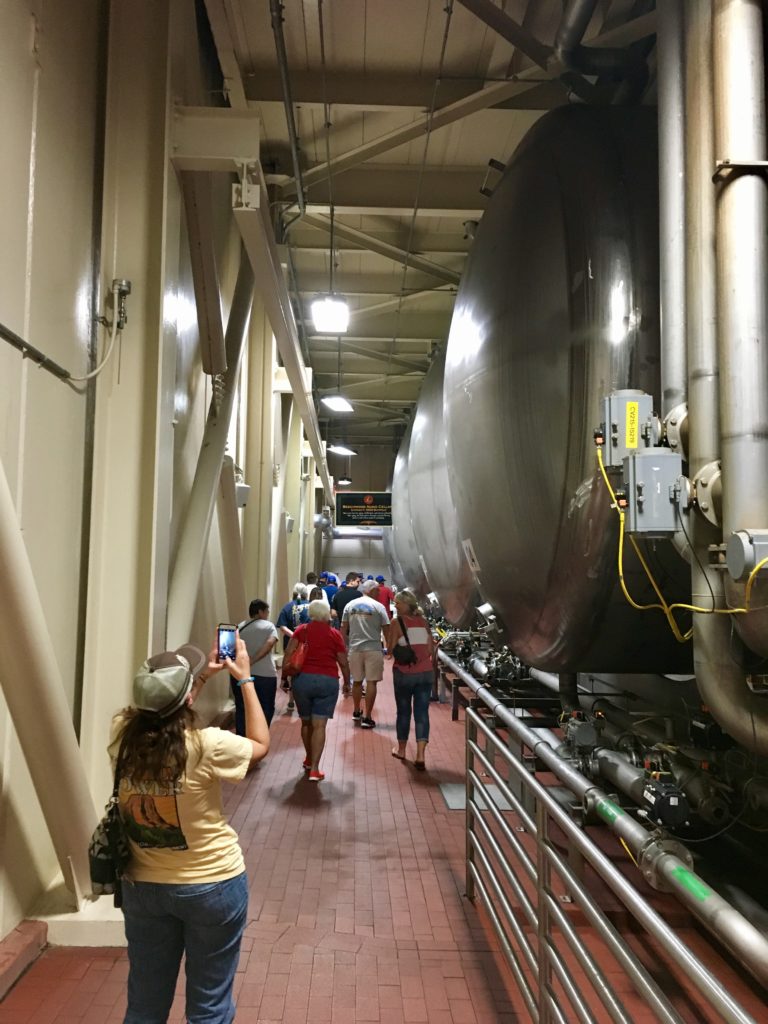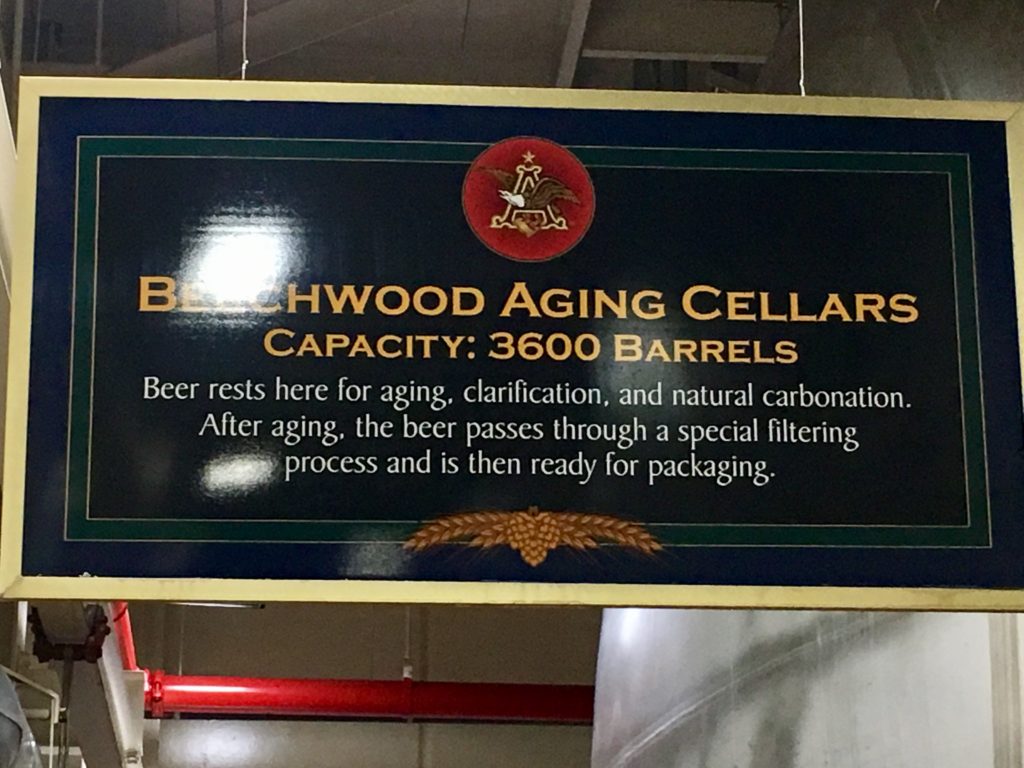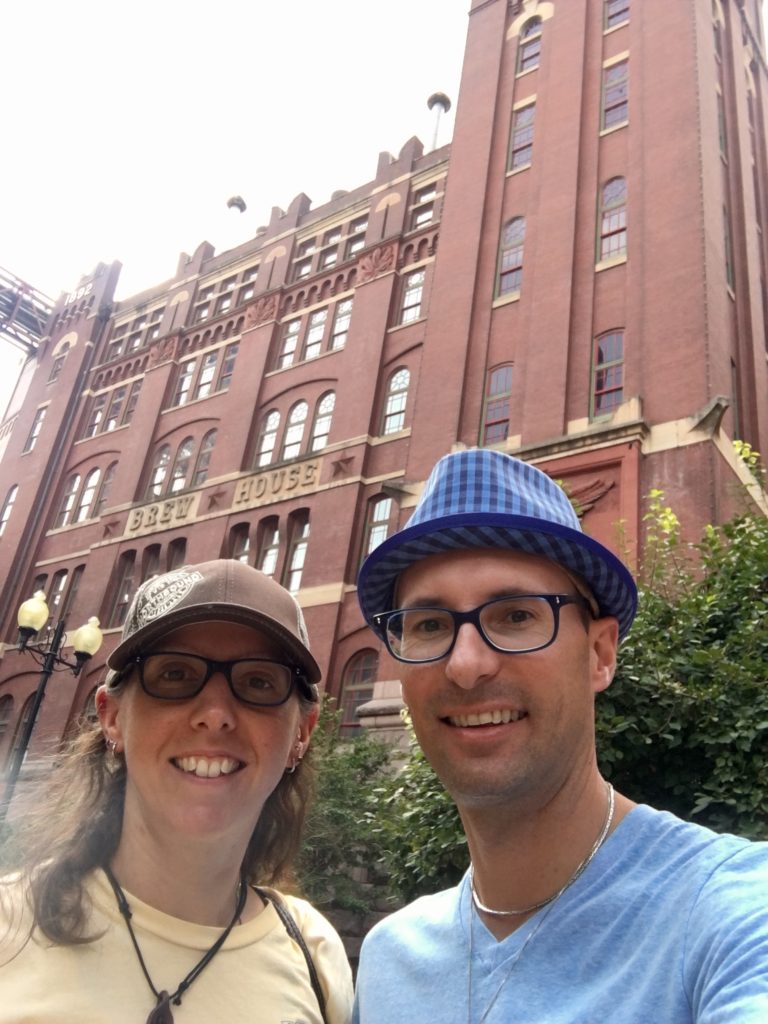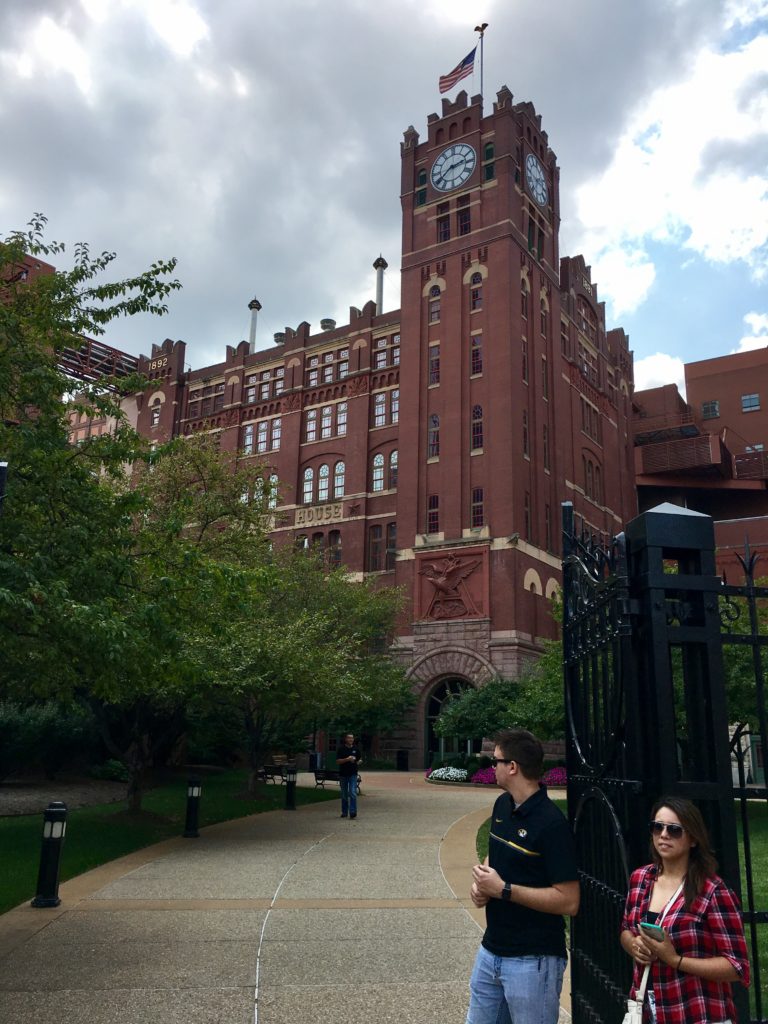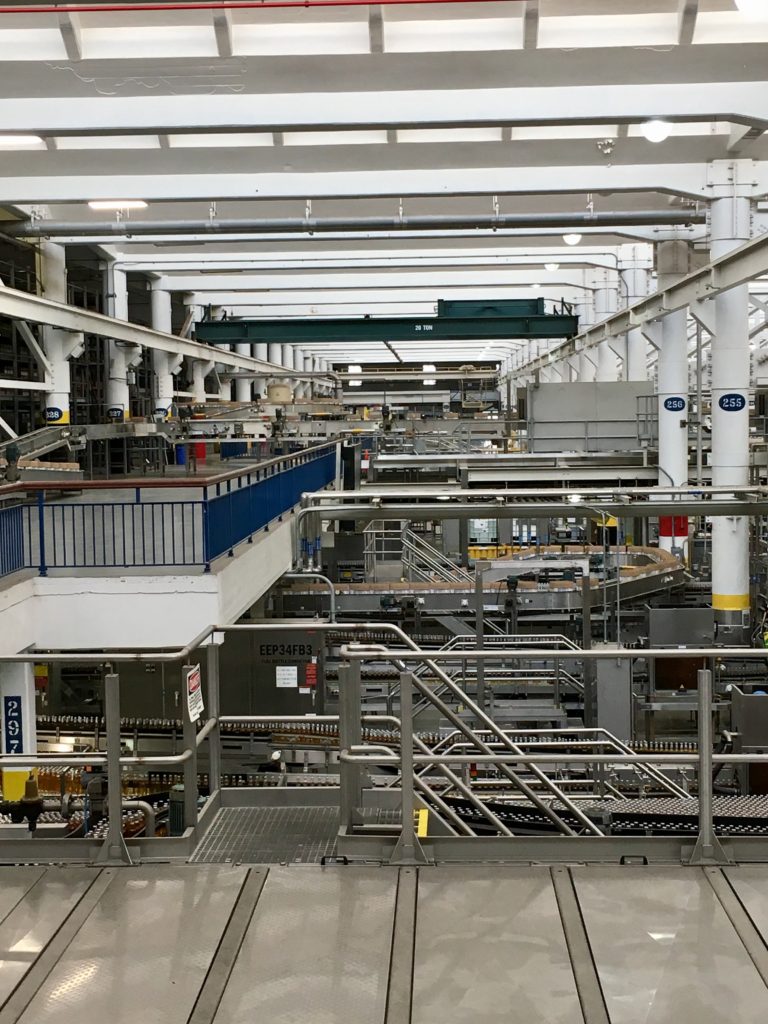 We finished up that part of the tour and was handed our bottle of Budweiser that was made that morning. Evidently the beer is made and shipped out right away so they hardly ever store any there on site. Jesse and I also splurged for another small tour of the Schoolhouse that houses all sorts of historic memorabilia from the beginning of the brewery until today. I learned that they are trying to be more Earth friendly and use less water and recycle what they do use. They also made some crazy carbonated milk cereal beverage (Bevo) during prohibition that didn't do to well but they still named one of their buildings after it. They even put the mascot of this stuff on the corner of the building, a fox holding a can of Bevo and a chicken leg.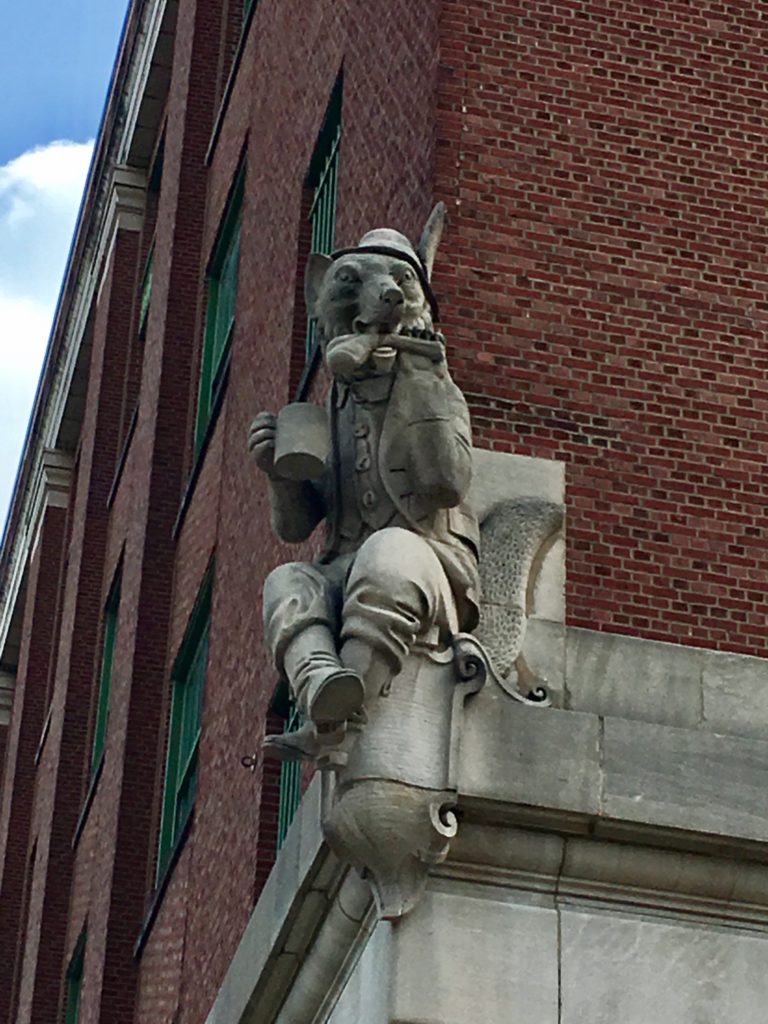 They gave out two tokens to get two free beers in the Biergarten, which is very pretty. Lots of seating and canopies for shade and they even brought out one of the Clydesdales so you could get up close, I of course went up to pet it but Jesse wanted nothing to do with the giant horse. (Jesse here – that horse was terrifying.  Nothing that big can possibly be vegetarian. Chrysa was so brave to have touched it.)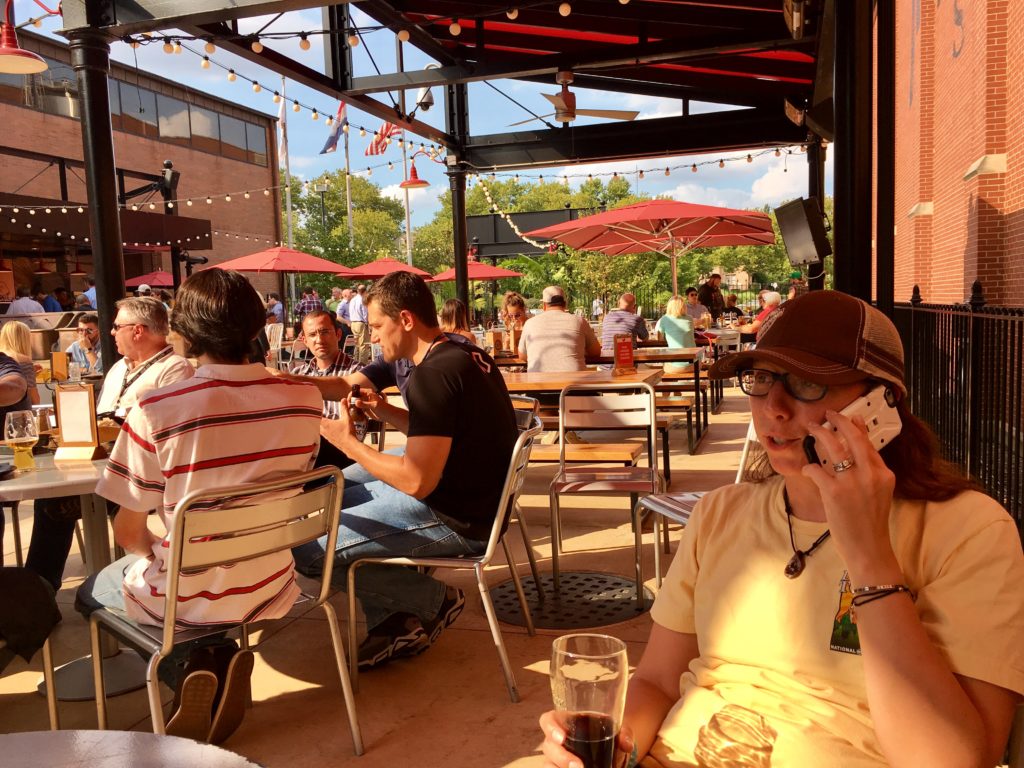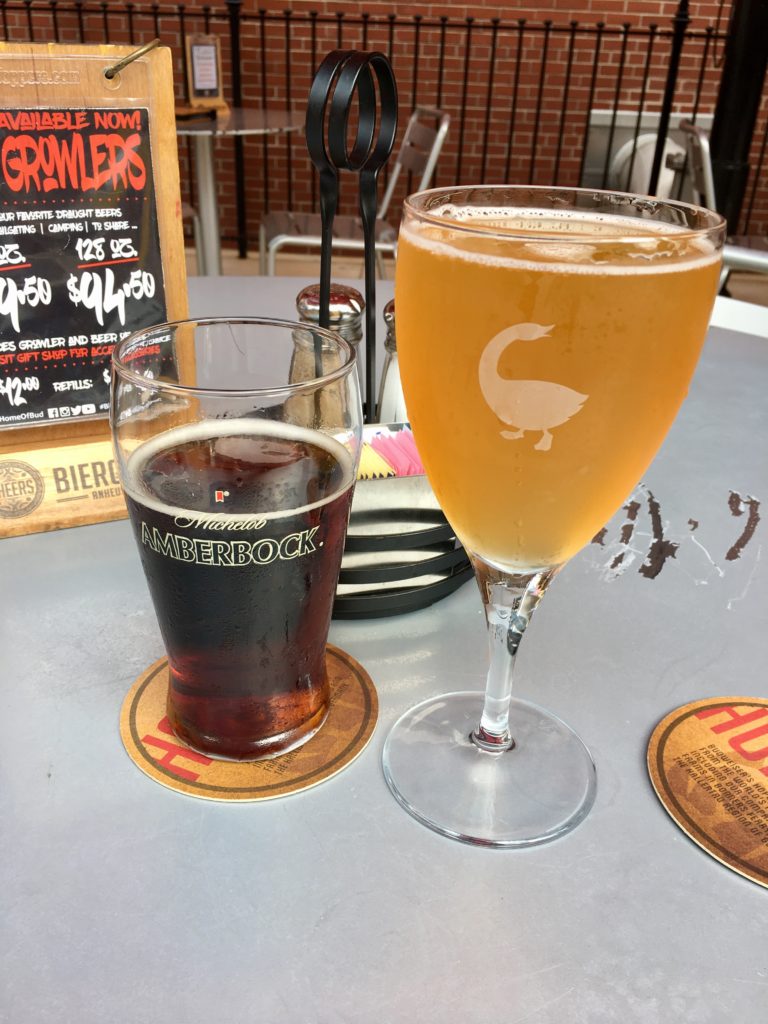 We sat and enjoyed our beverage while discussing my interview and our options. We have decided to accept the offer and we are headed back to one of our favorite states, California! I will be working in Orange, a town outside of LA (and the heart of the OC) and we are going to try a fun experiment and see if we can find our own housing. Wish us luck! We have a long drive ahead of us, about 2,000 miles but we are going to make it a fun trip and stop and make some visits along the way.
We also stopped at Pappy's Smokehouse for some BBQ for dinner. Conveniently they were located right next to a little brewery that opened just 5 weeks ago! We brought our BBQ over there and it was really good. Even I had a pulled pork sandwich that was great. There was a ton of food but we managed to eat it all. It was time to head back to Quincy but I think we will try to squeeze in one more trip to St. Louis before we leave. We had a great time and it is a fun city!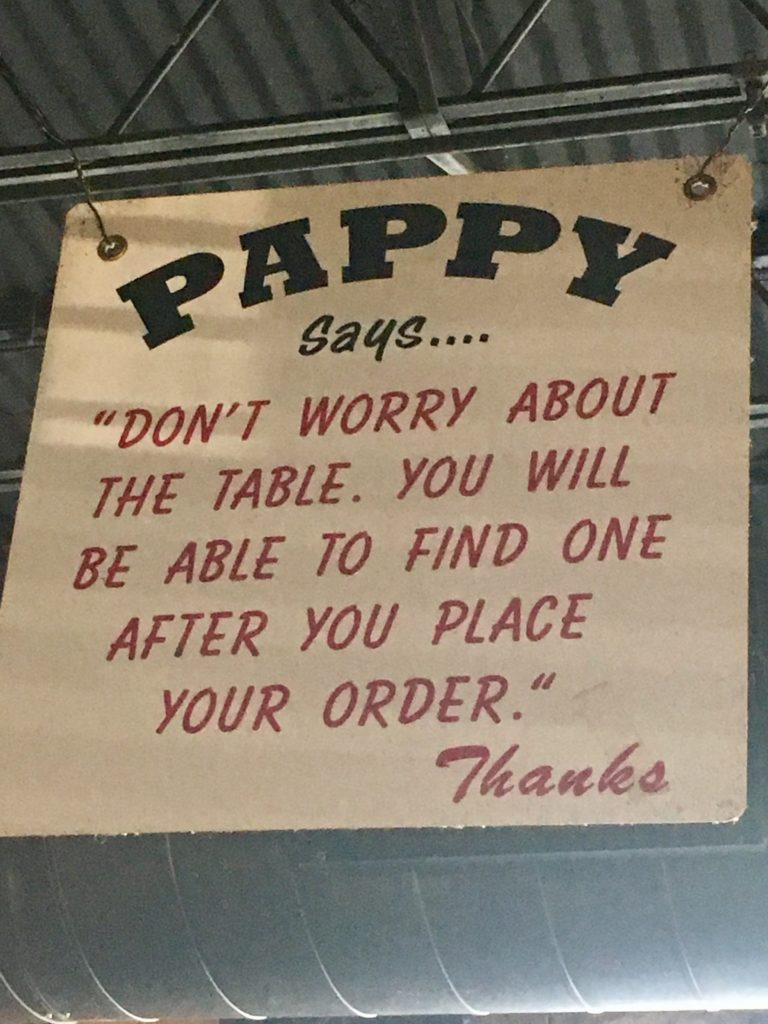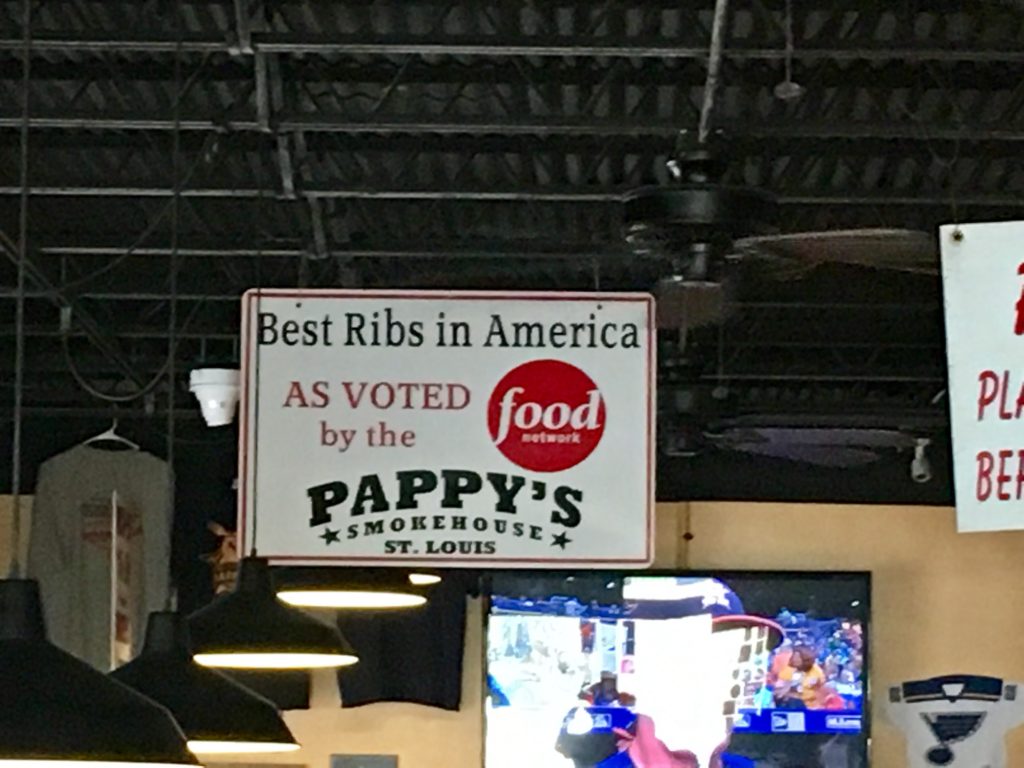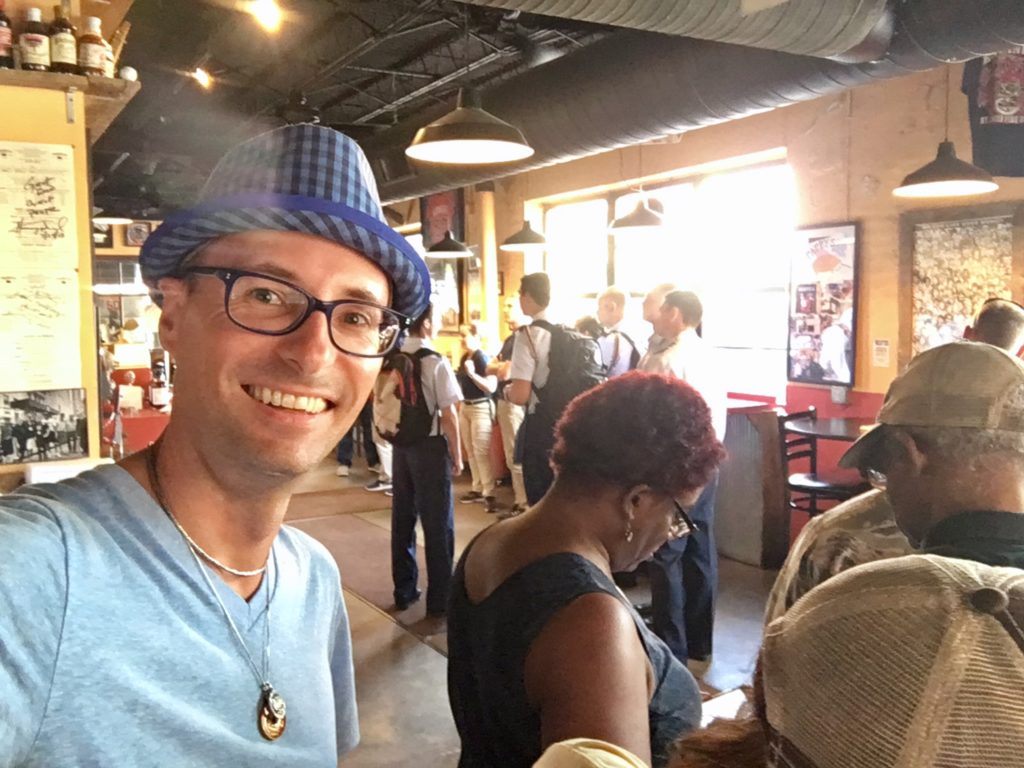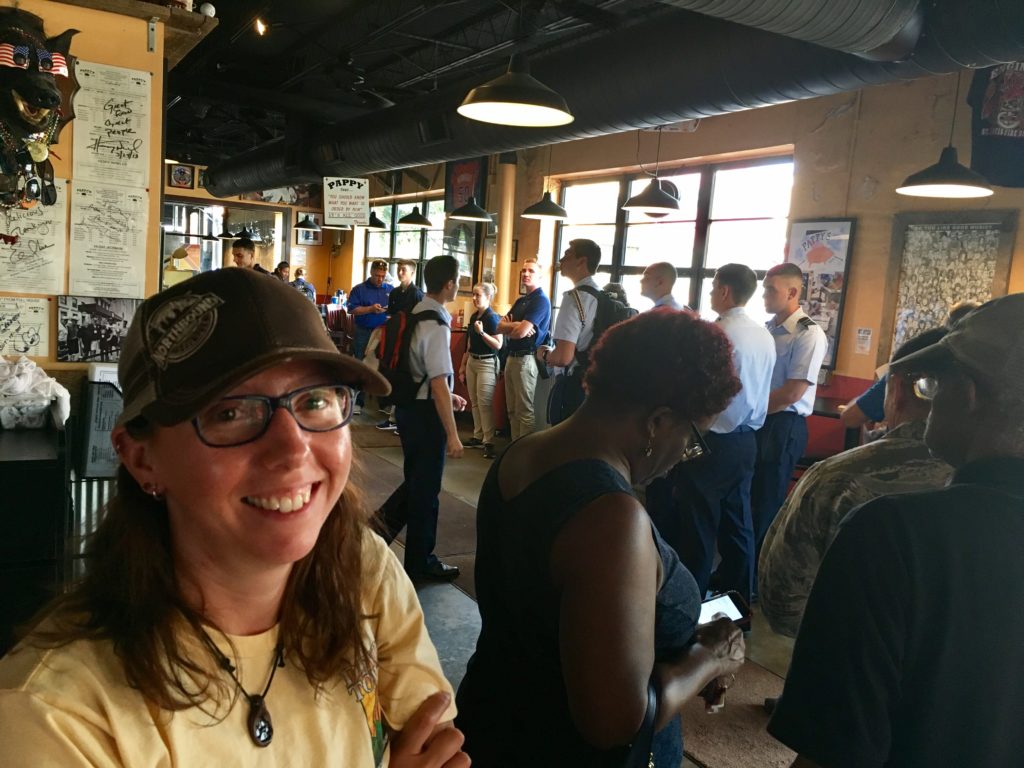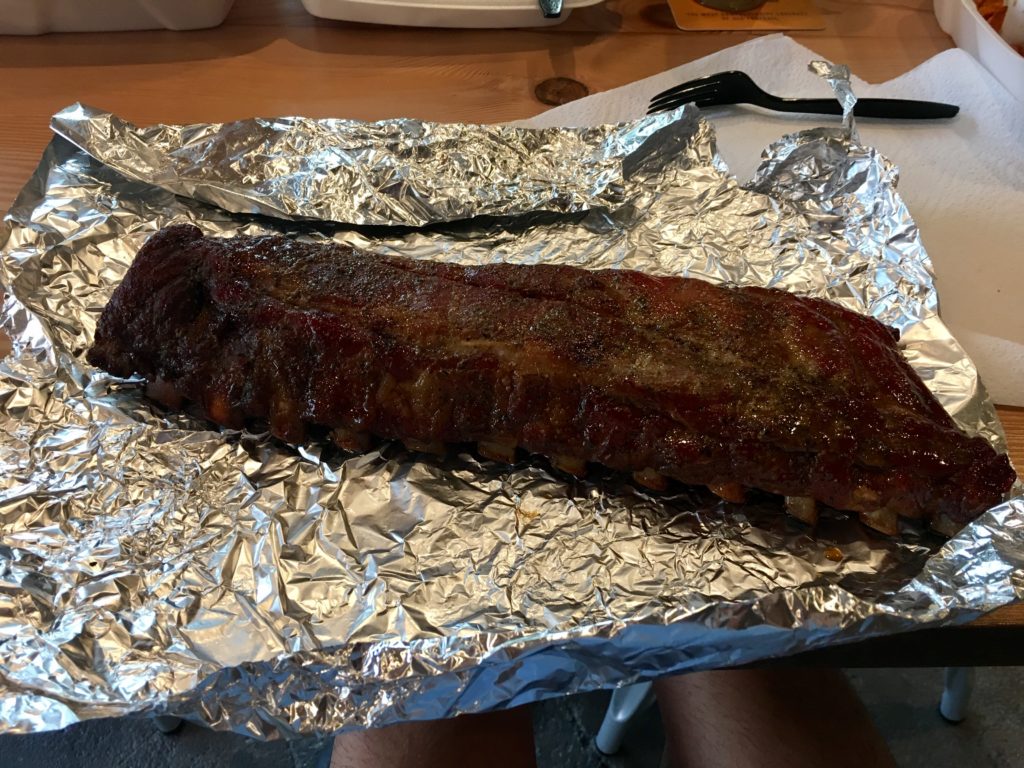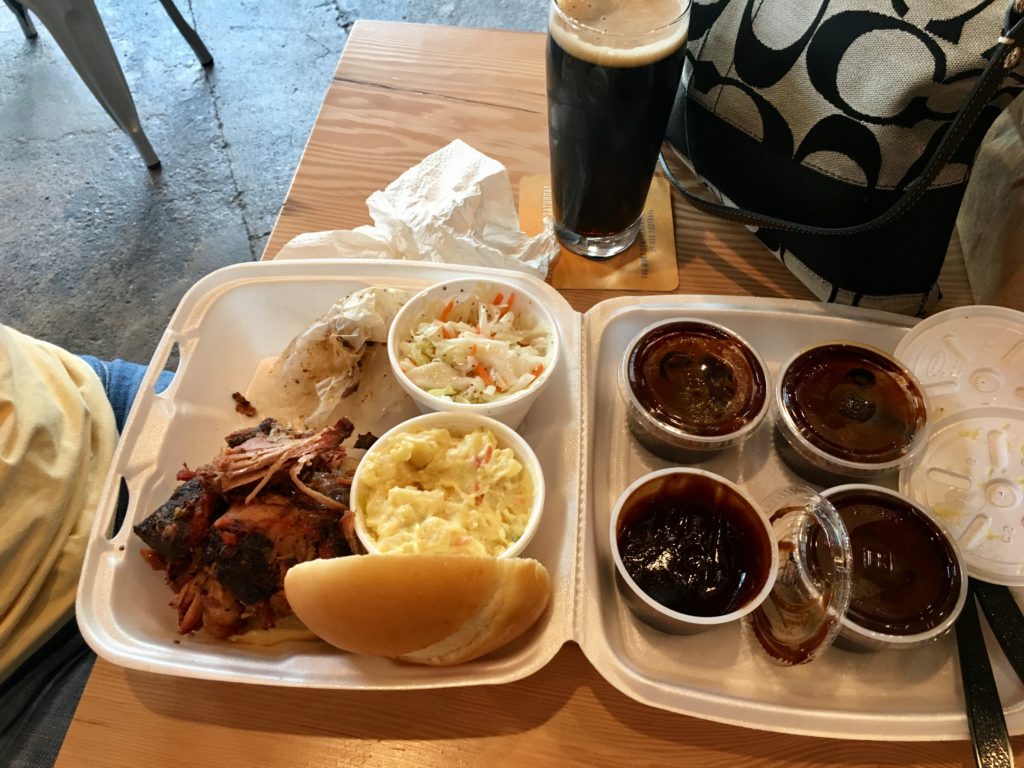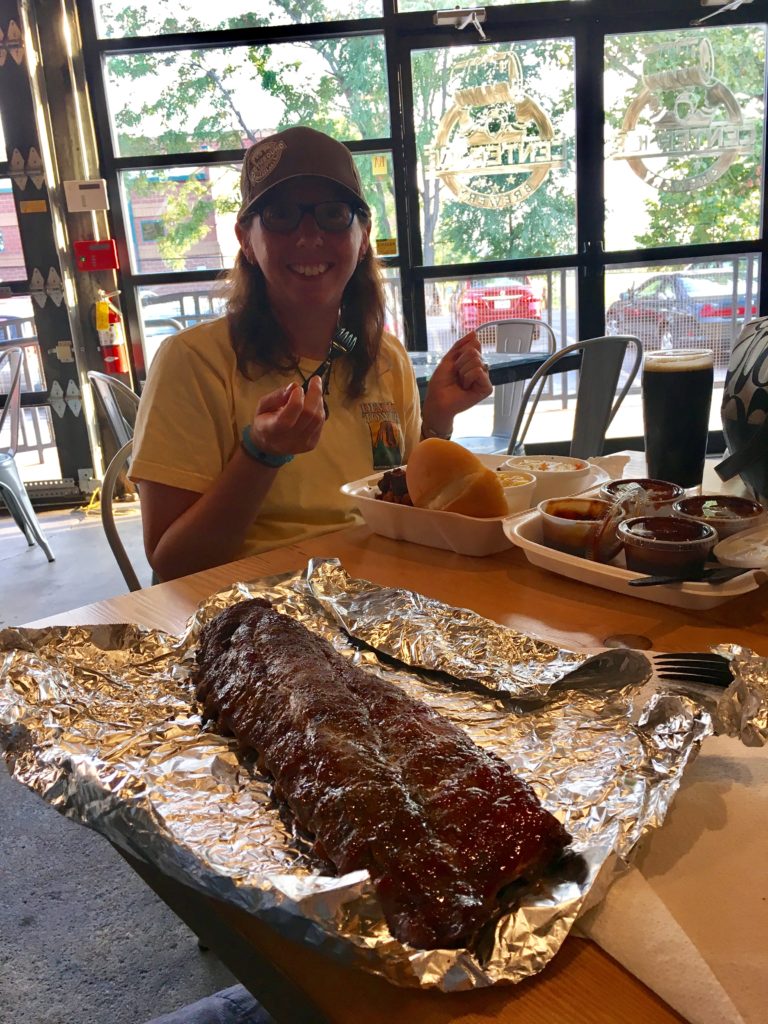 As we post this St. Louis is experiencing riots.  We wish the city peace, safety, and good fortune and hope everything calms soon.
(56)