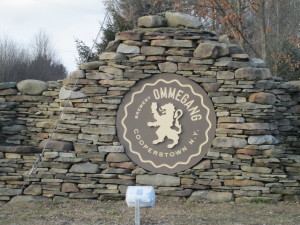 One of the benefits of living in New York again is the proximity to friends and family. Chrysa and I were thrilled when we got a message from our amazing friend Wendy the other day. Wendy and her boyfriend Joe were nearby visiting with family, and were looking to meet up for lunch. Chrysa and I had been dying to try out  Ommegang Brewing, this was the perfect opportunity. The date was set and we were going to meet Wendy and Joe at the brewery at noon.
Chrysa and I don't do a gift exchange with each other for Christmas. Instead, we treat ourselves to a nice dinner out. We usually get a little dressed up, pick a nice place, order wine and appetizers, and do the whole deal. This year we both had the whole day off. The plan was to meet up with Wendy and Joe and then head into Cooperstown proper and find a place for dinner.
The drive for Chrysa and I was only about 25 minutes or so. We got to the brewery right at twelve. We were immediately blown away. The entrance gate is a massive and elegant structure that lets you know you are on the grounds of a very special place. We got out of the car and surveyed the area. The brewery is set in the mountains on sprawling grounds. The other breweries we have been to have been smashed into corners in industrial parks. Ommegang could not be more opposite. During the summer they have enough room to host a concert series. You can even camp on-site! It's a great set up. You can get a little over served and not have to worry about driving home.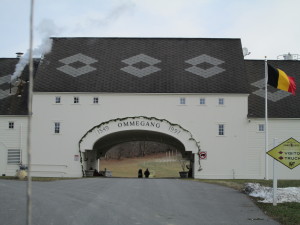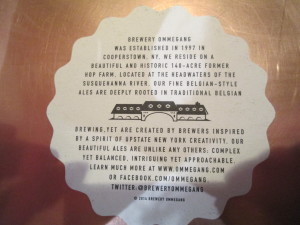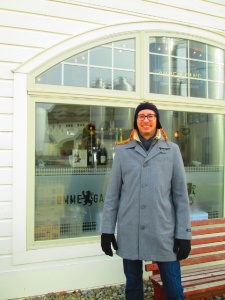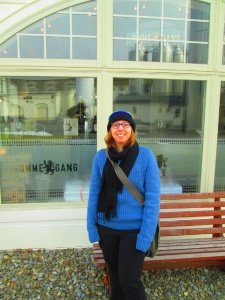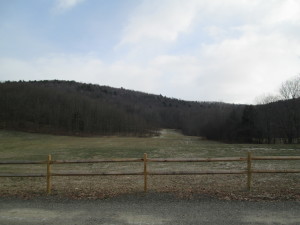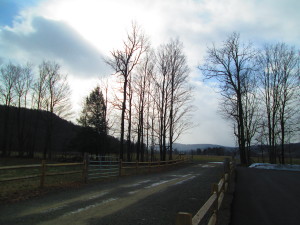 After soaking in the scenery we walked into the gift shop to wait for Wendy and Joe.   We only had to wait a couple minutes. There were hugs and kisses all around as soon as they walked in the door. Both couples were hungry so we moved immediately into the lunch portion of the day.
Chrysa and I are always keen to start with beer early in the day. This gave us the perfect opportunity. Chrysa and I both ordered the Game of Thrones themed beer they had on tap. The beer is called Valor Morghulis. Summing up this beer is easy, it's fantastic! It's a chestnut brown color and it's nice and malty. It also went really well with the food we ordered.
Ommegang does primarily Belgian style beers so their specialty is fries or frites. We placed an order and got two different dipping sauces. While eating the fries we discovered that Wendy and Joe weren't really beer people. I have known Wendy for a real long time. I guess I should have known this. Now that I think about it I've never seen her drink a beer. When she comes over for Thanksgiving she arrives at wine thirty for crying out loud.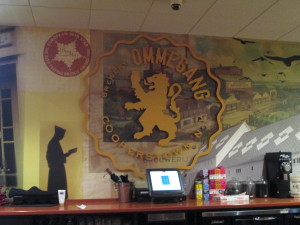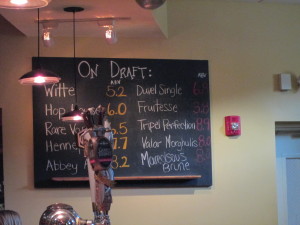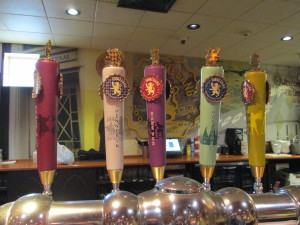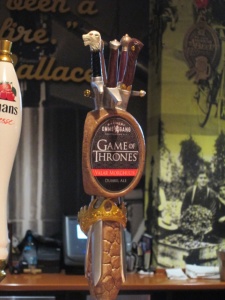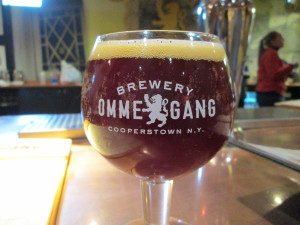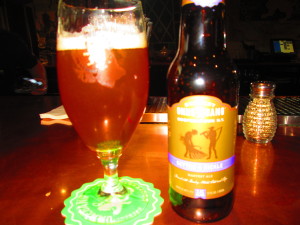 Chrysa and I felt pretty bad but Wendy and Joe were fantastic and they were up for anything. Lunch was ordered and it was time to see what this place had in store for us. Chrysa ordered the bratwurst sandwich. Wendy got the fancy ham and cheese topped with a fried egg. I always like to experiment so I got the sausage platter with blood sausage.
I'm happy to say that we all enjoyed our meal a lot. Wendy seemed a little unsure of her sandwich with the egg on top, but she finished the whole thing, and said it was delicious. My meal was out of this world. Never be afraid of ordering something weird. It usually pays off. Blood sausage is no exception. It is really mild and went perfectly with the mashed potatoes.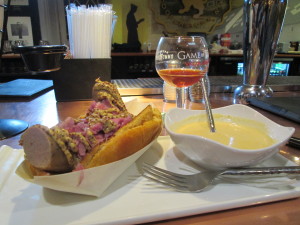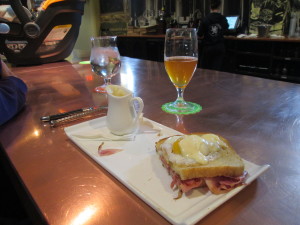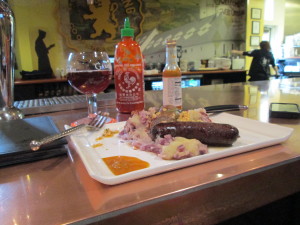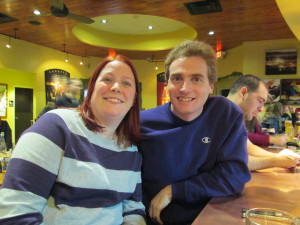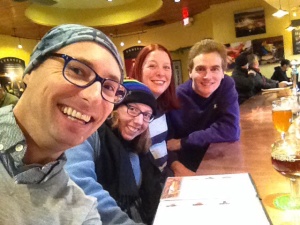 We did miss the official tour but we really wanted to spend more time together so we got another round of drinks. This time Wendy was the most experimental. She got the Fruitesse. This is the beer for non-beer people. It is fruit flavored and served over ice. It's really refreshing and would be spectacular on a hot summer day. Joe is less of a beer person than Wendy and even he enjoyed it.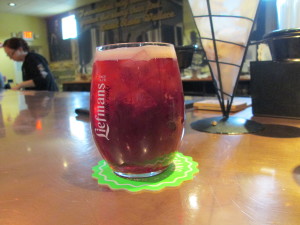 After our stunning lunch it was time for us to part ways. Wendy and Joe were meeting her dad for dinner and Chrysa and I wanted to check out Cooperstown. We headed out into the cold, took some pictures, and said our goodbyes. I really hope we get to do that again!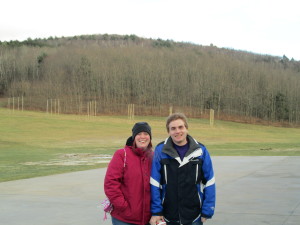 The next stop for Chrysa and I was Cooperstown, home of the baseball hall of fame.
The town is very quaint and picturesque. We parked the car and took a quick walk to Doubleday Field and took some pics. We also walked the streets and did a little window shopping. There isn't a lot going on off season and it was freezing cold outside. We did brave the elements and walk to the lake. Although it was bone chillingly cold, the sun was out. The conditions were perfect for picture taking. I have to admit the walk was worth it.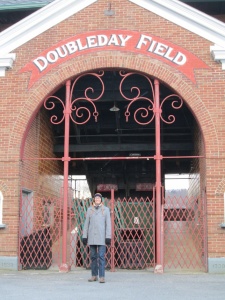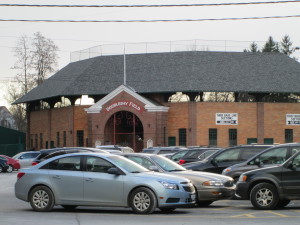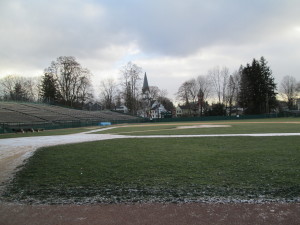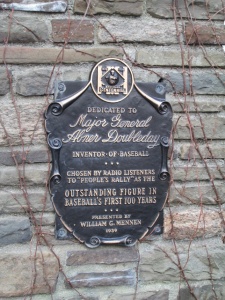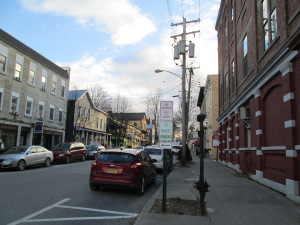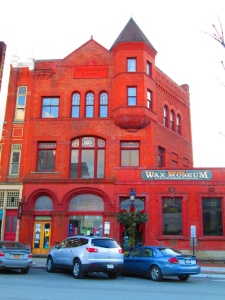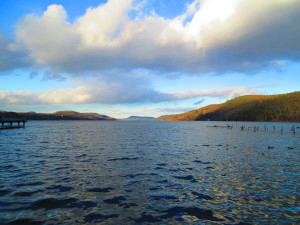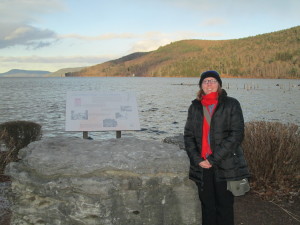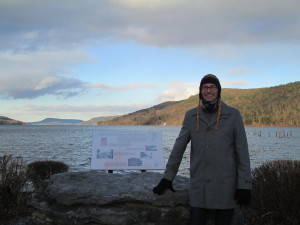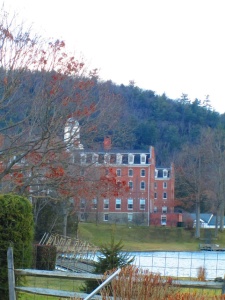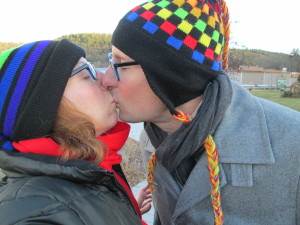 The Cooperstown Distillery was the next destination on our list. We heard that they had free samples! We were chilled to the bone after our walk to the lake, so we needed to fortify ourselves. The facility is new to the area but they really do have their act together. The spirits they create have a fantastic amount of maturity and are already winning awards. The gin they make is amazingly complex and the bourbon is wonderful for sipping and savoring. We purchased some for ourselves and my father in law. We will be back.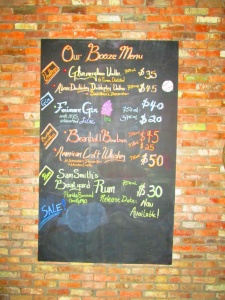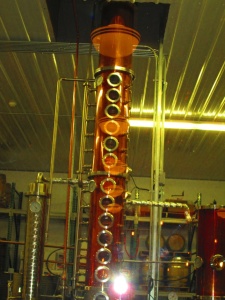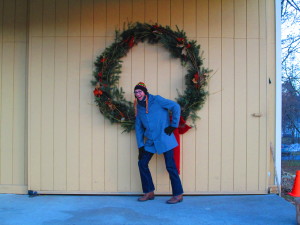 We decided not to have dinner in Cooperstown after all. The dog wasn't feeling well when we left the house, so we decided to head back home and check on her. Our new plan was to go to the Red Caboose for dinner. We had been to the Red Caboose before for cocktails and snacks. We were hooked as soon as we walked in the door, and we vowed to come back for a full meal.
The Red Caboose emphasizes quality, local ingredients and it shows! I ordered the Hudson Valley duck breast with sweet potato puree, mushroom ragu, and Brussel sprouts. Chrysa got the Still Water Farms beef tenderloin with truffled spinach and wild mushrooms. I won't bore you with a review – both meals were out of this world good! I'm sure you're hungry just reading the descriptions.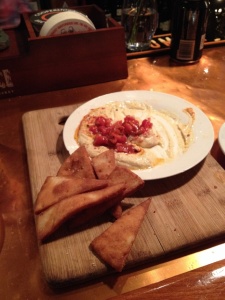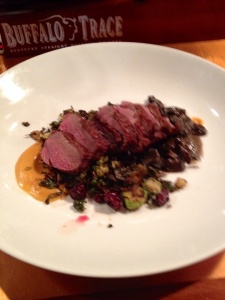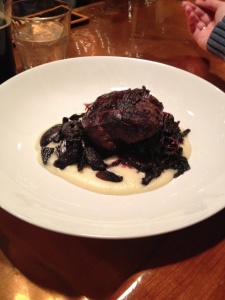 Dinner was the end to a fantastic day. Some days are just perfect. This was one of them!
(902)